New Home Drywall Contractors for Home Builders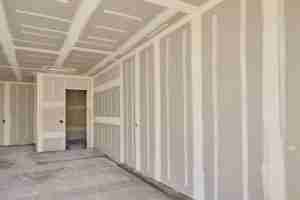 If you need some of the best new home drywall contractors in Utah for your home building company, we've got you covered. We take pride in our work. Our experience and professionalism make sure that you get what you pay for—quality drywall.
Drywall is fireproof, looks good, and is relatively lightweight. It's an extremely versatile material. They are used for roofing, walls, even for hiding steel support beams. It's easy and cheap to repair.
Building a new home can be a daunting experience. Dealing with construction can be stressful, expensive, and it takes ages. We aim to reduce that stress for you by being dependable and quick with our work.
We offer all kinds of drywall services such as:
We are the best drywall contractors in Utah. We see our work as a product that is meant to last long and be functional. Our friendly staff will make your experience stress free. We're glad to answer any questions and keep you fully informed.
No matter how big or how small your new home is, we're ready to take on the challenge. Our passion shows in our work. We can handle your interior wall work from start to finish. By the time we're done, your brand new home will be one giant step closer to being finished.
If you need a drywall company to help build your new home, we'd be more than happy to do so. You can request a free estimate right here on our website. Or you can call 801-406-6350 and get in touch with one of our drywall professionals today.
We are the go to drywall contractors for new home builders!
Salt Lake, Utah, Davis, Weber​ Counties