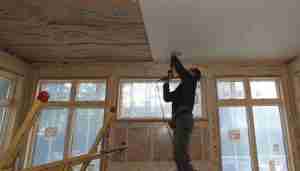 Installing drywall isn't rocket science, yet it'll look better and go faster once you learn the fundamentals before starting. If you have a drywall hanging project, it is wise to contact professionals like Utah Drywall & Repair.
Utah Drywall & Repair can make sure that your personal belongings are protected and each of your family members is safe. With our drywall hanging services, you don't need to deal with dirty hands. Our company is insured and bonded.
Other than drywall hanging services, we offer other services including drywall removal, drywall repair, and drywall installation. When compared to others, we don't cut corners. We offer an exceptional long-term value through hiring the best professionals to provide quality service. That is why you will have confidence once we get started with your project. Expect nothing but complete satisfaction once it is done.
We promptly answer any questions you have. We walk through with you to check our work. Any final touch ups or concerns will be handled properly before the job is completed. What makes us different is that our team of professionals are experienced and years of expertise in drywall hanging services.
We take pride from having extensive knowledge of using the textured finishes with capability to achieve your needs. Our experts specialize in top notch drywall hanging services, which include hand texturing and spray abilities. From repairs to drywall hanging, we got you covered! The only thing you need to do is to contact us anytime you need our help!
Salt Lake, Utah, Davis, Weber​ Counties