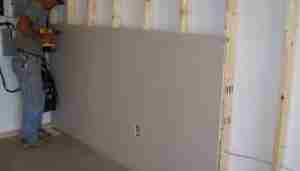 The introduction of drywall brought about numerous changes on how interior wall finishing gets done. This finishes the interior wall and dramatically lessens construction time. Drywall is often referred to as wall board, plaster boards, or gypsum board. This is primarily used for making ceilings and interior walls. Thickness and size are the most important parameters being considered during drywall installation. In the world of interior wall decorations, drywall is a certified revolutionized method.
The ideal thickness sizes being used for drywall installation are 5/8 inch, ½ inch, ¼ inch, and 3/8 inch. In this case, your drywall contractor and your architecture are the ones you should consult to choose the right drywall thickness.
After the drywall installation process has been completed, painting it is the next step. Drywall installation is composed of different steps like preparing the drywall site, installing the drywall, installing the corner bead, mudding and taping, applying the second mud coat, applying the mud's final coat, and sanding.
Some of the key benefits of drywall installation include:
Flexibility – You can develop and divide the space based on your needs.
Versatility – This can be used in every internal area.
Excellent performance – Final output is best when it comes to sound and thermal insulation and fire rating.
Dry construction – Work environment is dry, dust-free, and clean.
Aesthetic appeal – This allows easy decoration with wallpaper, paints, or tile.
Partitioning – Drywall is ideal for room partitioning.
Lightweight – This is 8 to 10 times lighter than traditional masonry systems.
To experience these benefits, call us for quality drywall installation today!
Salt Lake, Utah, Davis, Weber​ Counties