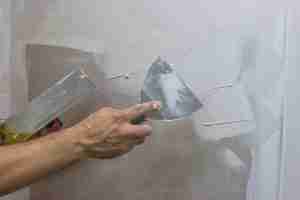 Many homeowners deal with problems with their drywall. If this sounds just like you, it is important to hire drywall repair experts in Utah.
If you have long been living in the same house for years built using not so good materials, there is a high chance that you will notice holes, cracks, or water damages. Seeing any of these will only leave you in a daunting and annoying situation, and you might even find yourself wondering where you should even start.
Even if there are some drywall repair needs that are easy to handle on your own, some concerns may be way beyond your knowledge and expertise. This is the reason why you should get in touch with the best drywall contractors that have been constantly serving clients with the most effective and efficient repair services.
If you have the right equipment and tools that you can use to take care of the issue with ease, then, by all means, you can go DIY with your drywall repair. However, if you think that the problem is a major and more serious one, it would be a wise move to consider seeing the assistance of drywall repair experts in this case.
It is a must to keep in mind that drywall construction in your house offers a host of benefits. Since it is simple and easy to mount, it will never burn a hole in your pocket and at the same time, it is also fire-resistant.
For your drywall repair needs, call us at Utah Drywall & Repair today!
Salt Lake, Utah, Davis, Weber​ Counties