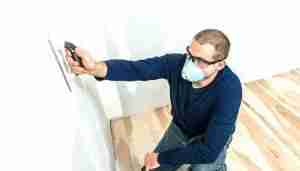 Typically, sanding is the last step in drywall projects. As drywall sanding experts, Utah Drywall & Repair knows exactly how to prime walls for whatever plans you might have for finish and paint. Sanding could take a lot of effort and time and can also be a hassle for anybody's attempting to do projects on their own.
During drywall sanding, it is challenging to keep the establishment's construction area as dust could settle quickly in some unwanted areas. So, if you don't want to experience any hassles, why not let the experts do the job for you?
It is very easy to ruin a good paint job since the underlying sanding wasn't done properly. It can be a big setback for projects and an avoidable one. It is crucial to have a drywall sanding expert at your side to ensure that your project is done properly. Utah Drywall & Repair can discuss with you the plans you have for your project and tailor drywall sanding services to suit your unique needs. Our client's satisfaction is our main goal and we'll go to great lengths to ensure that you're happy with our work.
Drywall sanding service at Utah Drywall & Repair are available at competitive rates and you can be assured that the project will be done in a timely manner with integrity and quality in mind. We always provide quality services and expect to get outstanding results. So, what are you waiting for? Call us now and find out why you should let Utah Drywall & Repair do the sanding for you!
Salt Lake, Utah, Davis, Weber​ Counties