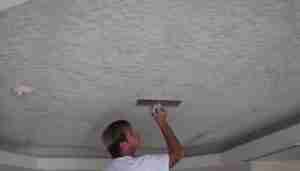 Drywall texturing is a good way to make drywall more appealing and cover up the minor imperfections in the installation of drywall. Some texturing techniques could make drywall less or more subtle. Even if drywall texturing can be done as a DIY project, it is important to hire professionals like Utah Drywall & Repair since this job can be messy and the professionals have the tools designed specifically for drywall texturing.
Types of Drywall Texturing
Popcorn Drywall Texture
It's a more noticeable type of drywall texturing. Applied in the same way to knockdown drywall, the 2 primary differences that you leave your mix of drywall in thicker consistency and rather than knocking down the stalactites, the drywall forms cottage cheese or popcorn appearance. While all drywall texturing can increase sound absorption of walls, thick popcorn formation is typically the best for this kind of purpose, though it's not completely soundproof.
Knockdown Drywall Texturing
It's a more subtle type of drywall texturing. Homeowners must use trowel when making the same effect to professional. To make the effect, drywall is watered-down to soupy consistency. Once mixed right, drywall must form stalactite formations when applied. The look of this drywall texturing is frequently compared to stucco.
Orange Peel Drywall Texturing
It should be done with spray gun because it needs air pressure and small nozzle on the gun. The rapid spraying technique and thin material makes lighter texture that closely resembles orange peels. To make a uniform texture, spray guns have to be moved at constant speed and it requires practice.
No matter what type of drywall texturing you prefer, give Utah Drywall & Repair a call for professional assistance!
Salt Lake, Utah, Davis, Weber​ Counties